Are you looking for an unusual road trip to take with your family?
If you reside anywhere in or near Canada, we have just the thing for you. Why not plan to visit the most haunted places in Canada?
Viewing all of them will take you and your loved ones all across Canada. It will be a trip to remember.
There are scores of them, however, this article will narrow it down to twenty. There is no significance to
the order in which these places are presented in our article.
The Mackenzie House in Toronto, Ontario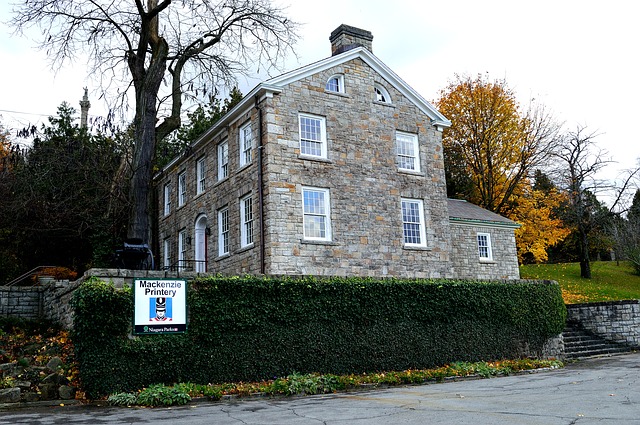 The rumor is this is one of the most haunted houses anywhere in Toronto, Canada. Some folks swear
they have heard instruments playing when nobody was around and saw a printing press in the basement
start up by itself. Others said they've witnessed apparitions of a few different people in the windows and throughout the house. Are these just silly tales or is there some truth to them? Find out for yourself when you visit.
Casa Loma Castle in Toronto, Ontario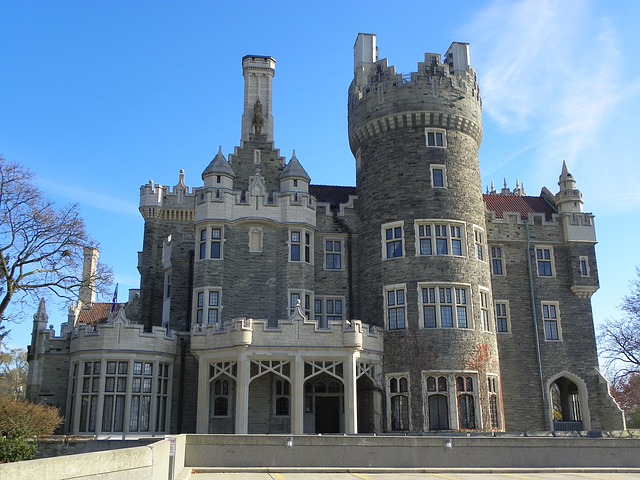 While you are in the Toronto area, stop by the Casa Loma castle. This was built in the very early 1900s
in the image of Gothic Revival style castles. It is said to be THE MOST haunted castle in all of Canada.
The elevators operate themselves and real ghosts frequent the place, in particular, one of its financier, Sir Pellatt. When the castle is viewed from a little bit afar, it just screams "haunted" all over the place.
Haunted Asylum in London, Ontario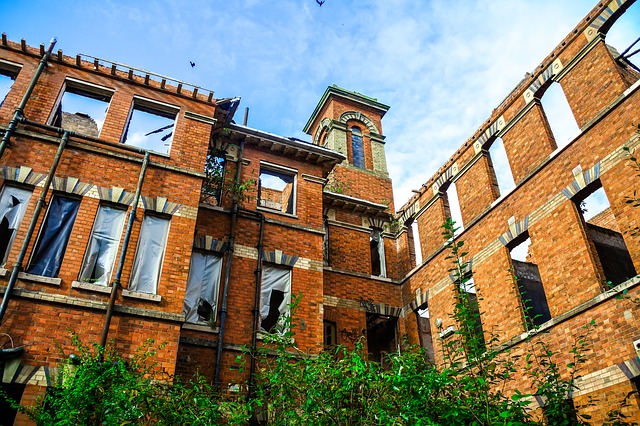 Visitors to this spooky place are initially intrigued by the old infirmary building that dates back to the
1870s. Apparently, it is all that remains from the entire old insane asylum that sprawled across the
grounds. However, there are newer buildings from the 1960s that are now also abandoned that lend itself to the haunted mystique. Paranormal enthusiasts claim the whole area is haunted by the spirits of the many deaths that took place while the asylum was operational. This is a must-see for anyone who loves a good scare.
Kingston Penitentiary, Kingston, Ontario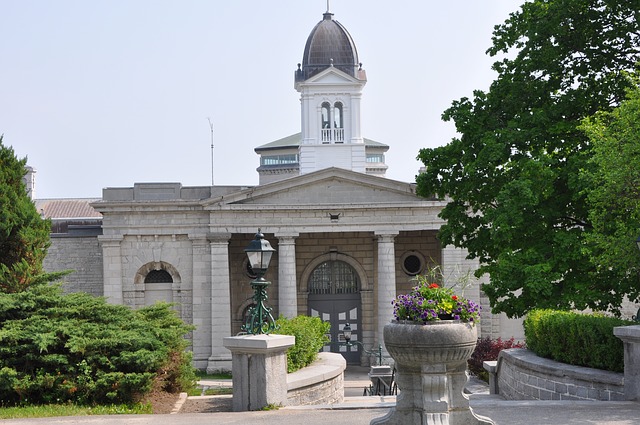 Whilst in operation over its centuries-old life span, this penitentiary was known for its strict and severe
punishment of prisoners. The prison population consisted of men, women, and children; none of whom
were spared from the cruelties of the prison staff. There were many huge riots, fires, hostage-takings,
you name it, it went on in Kingston Penitentiary. Now it is said that the angry spirits of hundreds of
inmates who perished there haunt everywhere inside and outside these grounds.
The Queen Elizabeth Hotel in Montreal, Quebec
Although it is a youngster when it comes to haunted hotels, the Queen Elizabeth Hotel, located in
Montreal, Quebec, Canada, should definitely be on your list of haunted places to visit. People say they
have heard footsteps everywhere and knocks on doors when nobody is present. There have been all
sorts of noises and screams. Some persons claim to have been pushed by someone they could not see.
Then there is the ghost of a woman dressed in white. Despite occasional rumors, although this hotel was
once visited by John Lennon and Yoko Ono, Mr. Lennon is NOT believed to be one of the spirits here.
Val-Jalbert, Quebec is Haunted!
Continuing onward in Quebec to Val-Jalbert, you will discover the ghost town that perhaps has best
withstood the sands of time. Back in 1901, this town was once home to a pulp mill, aka paper mill. This
area is considered to be haunted now, as are the Ouiatchouan Falls nearby. These falls are said to be
higher than the famous Niagara Falls. The legend goes that this town was hard hit by a bout of the
Spanish flu; so now many of the spirits that linger are ailing from this flu. Val-Jalbert, Quebec has
become a registered heritage site and the abandoned buildings are still in existence.
Fairmont Empress Hotel in Victoria, British Columbia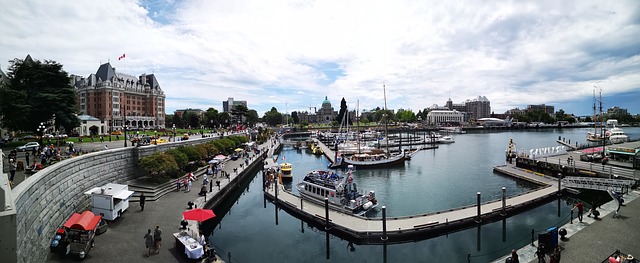 This area of Canada boasts of being the most haunted city in the entire province. Note in particular the
Fairmont Empress Hotel in Victoria. Even though, visually, it is quite beautiful in its architecture, this hotel is famous for being home to numerous spirits. Its own architect, Francis Rattenbury, is said to haunt guests frequently, as do a host of other apparitions. In fact, reports of ghostly spirits throughout the building and grounds attract paranormal fans from the world over. You are invited to come and see for yourself.
Bastion Square in Victoria, B.C. – THE Most Haunted
The center of activity in Victoria is Bastion Square. Located in the downtown area, people love to relax
and to shop there. However, the legend says that in the darkness there is an entirely different kind of
activity here. Folks from far and wide say it is THE MOST haunted spot in all of Victoria! From the old
Supreme Court, to the Maritime Museum, and throughout the whole square, it is deathly frightening. So
much so that reputable ghost hunters make this a definite stop while they are investigating the
paranormal. This is the best place to be around Halloween, that is for sure!
Hotel in Banff, Alberta is Quite Scary
We are speaking of the Fairmont Banff Springs Hotel which was built way back in 1888. According to a
plethora of terrified past guests, this physically beautiful hotel is definitely haunted. Amongst the ghosts
seen here are a retired bellman, a bride who had perished from a horrible fall down steps, and an entire
family who was murdered in that very hotel. There are a wealth more sightings of all sorts of ghosts.
Real or imagined? You decide after you visit this hotel.
Vancouver, B.C., Has the Old Spaghetti Factory
As we move throughout Canada, we'd be remiss if we did not include this one. The Old Spaghetti
Factory in Vancouver, B.C., is an extremely popular place to eat. Nevertheless, be prepared to be
scared! You will sit atop of an old railway track that ran underground here back in the day. Folks are
certain this restaurant is haunted by the spirit of a former conductor from one of the trains which passed
through long ago. There are chilly drafts, and table settings that mimic the arrangements of the now-dead conductor. A frightening photograph hangs in the eatery's dining room that sends shivers down
everyone's spine.
Visit the Plains of Abraham, Quebec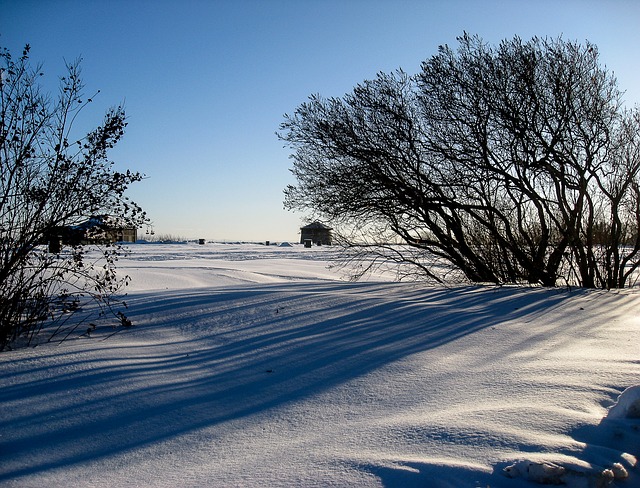 When you and your family pass through Quebec City, Quebec, make sure you include the Plains of
Abraham on your list of haunted stops. This was the stage of a siege against Quebec City that lasted
about three months. The British soldiers that fought here were led by Major General James Wolfe, a
battle that came to be known as the "Battle of the Plains of Abraham." This was a famous battle in the
history of Canada. Now visitors swear up and down they can see the ghosts of the scores of men who
died on these grounds. Very interesting indeed!
Ancaster, Ontario's Hermitage Mansion
Steeped in its legendary history is an accounting of why this place is haunted. The Hermitage Mansion,
located in Ancaster, Ontario, is famous for its notorious haunting of visitors. Guests over its many years
of existence have experienced numerous sightings of ghastly figures and equally frightening occurrences
of noises and such. Some people even claim to have been choked by invisible beings. Investigators are
frequently called to the scene to help shed light on what has taken place here. Do not skip this haunted
site!
Kitsault, B.C., Hosts Entire Ghost Town
Yes, you read that correctly! Vast numbers of past visitors say the entire town of Kitsault, British
Columbia is haunted, yet it is not very old. This town was in existence and occupied as recently as the
early 1980s. With a population of approximately 1200 people, many homes were company-owned.
Unfortunate occurrences led to home prices crashing and the town going belly-up. All buildings have
since been abandoned. Nowadays visitors to Kitsault say the whole region is haunted by ghosts of
former residents.
Haunted Brewery in Montreal, Quebec
In the downtown area of Montreal, Canada sits the Dow Brewery. This brewery has had an entire slew of
apparitions frequenting its massive building and sprawling grounds. One such viewing began happening
in the late 1990s after a little girl suffered a tragic ending here when she was murdered. Her ghost is one
of a multitude of spirits that inhabit the Brewery. The Dow Brewery has been visited by some high profile
paranormal groups in order to gain knowledge of whatever is really going on there. Make this one of
YOUR stops as well.
More Spooky Places in Montreal, Quebec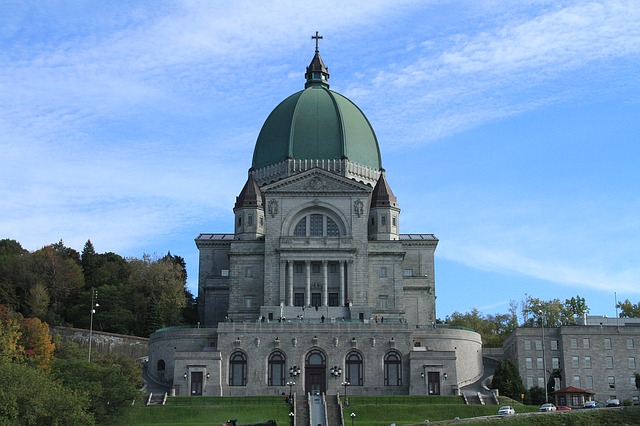 While scouting for haunted places in Montreal, be sure to give Mount Royal a whirl. This ultra dark center of Montreal Island is described as the "City of the Dead" by many who have visited. Mount Royal is home to the largest burial ground in all of North America. It is comprised of four intact cemeteries. Even the large mountain has dead buried there. All who come here to visit leave saying hosts of apparitions appeared everywhere. Frightening, isn't it?
Visit the Isle of Demons in Newfoundland and Labrador, Canada
Throughout time, sailors have told stories of the Isle of Demons in Newfoundland and in Labrador being
cursed. In its history, it was widely known as the place where people were sent and virtually abandoned
as a form of punishment. The more people that stayed and perished there, the more spirits remained. It
is considered to have been a place of lost souls to this day by everyone who has ever set foot there. Do
you and your buddies want a challenge? Stay at the Isle of Demons for a few days!
The Viking Ghost Boat, Newfoundland
Continuing on with our maritime haunted places, we come to Saint Lunaire-Griquet, Newfoundland and
Labrador. There we find the Viking Ghost Boat! People may recognize this from having been spotlighted
on Creepy Canada. Oodles of folks say they have seen a vision of the phantom longboat as it sailed
amidst the fog. The legend says it comes from Vikings who explored these waters back in ancient times.
Many of these Vikings settled here. Come and see for yourself if this is fiction or fact!
In Regina, Saskatchewan, Visit Government House
When it comes to superbly haunted places in Canada, we ought not to leave out Saskatchewan. In
particular, Government House in Regina, Saskatchewan, could be considered one of the most infamous
ones of all. Back in the 1890s, it was the home of this region's lieutenant governor. Recently it was
completely refurbished, spirits and all. Visitors who tour the Government House are positive they have
heard tons of eerie sounds including crying babies in the middle of the night (when no babies are
present.) They hear a multitude of other ghoulish noises and see mysterious images in the mirrors. They
feel extremely cold in the former nursery wing, see real ghosts, and so much more. Be prepared to be
scared stiff in this place!
Ottawa, Ontario Has the Jail Hostel
Until the time of its closing in 1972, Ottawa Jail Hostel of Ottawa, Ontario, was the official area jail for
more than 100 years. After 1972 it was reopened as a hostel and has become well-known for its
ultra-frightening atmosphere. Staff and guests alike have witnessed an explosive number of apparitions,
disembodied voices, and direct touches by the hands of invisible spirits. Perhaps one of the most widely recognized spirits here is the ghost of Patrick J. Whelan who, way back in time, was hung for murdering someone. Guests are certain they have seen him at the foot of their beds while staying in this hostel.
Famous Spot in Nova Scotia is Haunted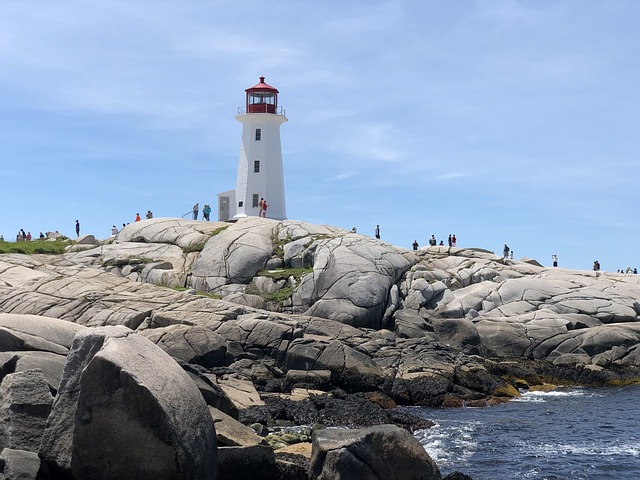 In Halifax, Nova Scotia sits Peggy's Cove and Peggy's Point Lighthouse. The local folks there tell the
tale of a lady in blue whose spirit still haunts this spot until this very day. There is a story behind why she
haunts the Lighthouse and Cove. Guests of the place pledge that it is true. They have seen her ghost all
over the grounds and within the walls of the infamous landmark. Spooky stuff, indeed!
Wrap-Up
People, these spots we have discussed are merely the tip of the iceberg. One thing is certain, if you stop
at all these places during your family road trip, you will have a trip to remember for the ages. Nobody will ever forget this excursion!